SEGi College Subang Jaya School of Music held two graduation recitals in April, nearing the end of 2022's first semester. One was physical while the other was virtual.
While graduation recitals are often held when students have completed or are near completing their Diploma in Music programme with SEGi. This semester, one recital continued virtually as in the previous few semesters during the pandemic period, while the other recital resumed the traditional practice of a live concert.
Comparing the two different modes of performance:
1) Physical/Live Performance:
On the 14th April 2022, Choo Ming Er and Muhammad Rizki Ikhsan performed for a violin and cello concert for the subject "The Art of Stage Performance" entitled "The New Journey". The concert was held live on at the Theatre Hall of SEGi College Subang Jaya. This was the first concert held live with an audience after two years of lockdown and restrictions due to the COVID pandemic.
Choo Ming Er: "This is actually my first violin solo live performance as I have not performed classical repertoires as a soloist before because I dislike performing for lack of a good memory. I'm happy to say, though, that I was able to overcome my fears and performed smoothly during the recital. I have learned a lot from this experience and I feel that it has helped me to be a more prepared musician and a soloist. Just like our concert title "The New Journey", I will continue to improve and work harder to be a more professional musician in my upcoming new journey."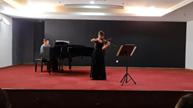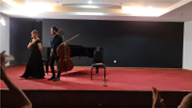 Muhammad Rizki Ikhsan: "The recital was very memorable and I am so happy that I can be back on stage after these past two years of the pandemic. I was nervous even though I prepared well but I am glad that audience reacted positively to my music. For me, recitals are a good exercise to build my mental strength on stage, to feel the wonderful experience as a soloist and also to make me a better musician in the future."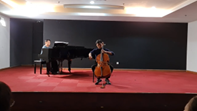 Choo Ming Er and Rizki: "The audience consisted mostly of family and close friends, and alumni of the Segi Music Department. Some of the students from the other faculties attended the concert as well . We appreciat everyone's support. Most of the feedback from the audience was positive. Lots of pictures were taken thanks to our senior Lim Khai Yin as our photographer of the night. Good memories were made and we ended the recital with joy."
2) Virtual Performance
On the 15/April 2022, Cheah Yue Jia held her online pre-recorded recital during the weekly Major-Minor Study Group Performance Practice time. The online recital was attended by most of SEGi's music students and two faculty members.
Cheah Yue Jia: "Holding a virtual performance is a different experience compared to a live performance. A virtual performance needs to consider the sound quality, the angle, and the video quality. But at the same time, I thoroughly enjoyed doing the recording as I can learn more about recording a quality video.
While holding this virtual performance, I did not have an audience other than my fellow music students for the initial streaming, but some of the response towards my performance were very supportive and encouraging."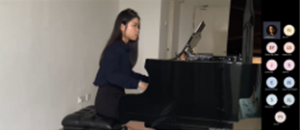 What are some of the main differences between these two modes of performance?
There are different learning aspects.
For the physical concert, the students learnt to handle stage fright while focusing on the musical interpretation and projection to engage with live audiences.
For the virtual concert, the students learnt not just to take care of the music performance, but also the recording and production quality of their performances.
Both these modes of performance have their respective unique learning experiences, all of which are useful for preparing and equipping performers for any occasion.