School of Education and Languages in SEGi College Penang always exposes early childhood education students to the latest trend. During the outbreak of COVID-19 pandemic, the school conducted webinars regarding online storytelling, digital classroom, etc. However, we did not lose sight of the hands-on approach which plays a crucial part in adult and young children learning journey. Young children need to have concrete learning materials and suitable learning environment to build up their understanding of the world. Thus, the students have to be able to design and create an enabling environment for the children to learn and develop holistically. 'An Introduction to the Theory and Practice of Montessori Method of Education' is one of the modules offer in Diploma in Early Childhood Education. This module involves the students in practical sessions, for example, interviewing the person-in-charge of Montessori preschool which allow the students to explore to the actual field and have a better understanding about Montessori preschool in Malaysia.
This module is focus on the Montessori philosophy and approach of how to prepare an appropriate learning environment and guide the child in the environment, nurturing and bringing into full blossom the potential that lies within each child. Topics covered include practical life, sensorial education, mathematics, literacy skills and cultural studies. Students will be given precise instructions in the use of the Montessori teaching materials. In addition, they will be taught to produce developmentally appropriate activities and activities to support and scaffold their work with young children.
Sixty-one students joined this module last semester. It was between August and November 2020. During that time, many preschools were overwhelming with preparing online learning materials, conducting online lessons, answering parents' phone calls, etc. Thus, the students faced lots of challenges in approaching the Montessori preschools and the arrangement of the interview sessions. With positive learning attitudes, they were able to convince a number of Montessori preschools to participate in their project and interviewed the person-in-charge. The Montessori preschools which involved in the project are Montessori Nursery Centre, Little Bell Montessori Kindergarten, Bumblebee Montessori School, Montessori Children's House, The Junior Academy Montessori Preschool, Tiny Tots Montessori Center, and Growing Moment Montessori Preschool. Most of these preschools are located in Penang, one is located in Kuala Lumpur and another in Sabah. Due to the strict SOP, most of the interview sessions were conducted online. It was a great learning experience for them, they learnt how to use different online platforms to communicate with the industry players.
Besides interviewing the person-in-charge of Montessori preschool, students created supplementary Montessori materials for their project. Students engaged in the online lectures and have a good understanding about the Montessori philosophy, practical life, sensorial education, mathematics, literacy skills and cultural studies. Besides that, they are being encouraged to be an active life-long learner who always enhanced their knowledge through their own research. With the knowledge they gained through online lectures and own research, they have created very beautiful Montessori supplementary materials. For example, Blippi Shapes, The Classification Box, Find and Count on Colours, Tight Up the Hair, and Box of Colourful Knowledge. All the materials were accompanying with the user manual. All the materials aimed to enhance the development of children from different aspects.
The students were collaborated well with each other to interview the industry players, created the supplementary Montessori materials, and presented their projects to the peers and panels. During the group presentation, they were able to practice and enhance their presentation skills. They created and designed their presentation slides. Some of them interacted very well with the audience. They demonstrated how to work on their supplementary Montessori materials. They introduced different Montessori preschools to each other. They discussed about Montessori philosophies, Montessori apparatus, and Montessori environment. At the end of the presentation session, they reflected on their learning journey and shared their experiences with their peers.
SEGi College Penang is the only college in Penang which offers Montessori Education in Diploma in Early Childhood Education. Montessori approach is one of the common approaches applied in many preschools. Important concepts regarding Montessori education are included in our diploma program. The knowledge and skills gained for this approach will be very helpful for your future employment.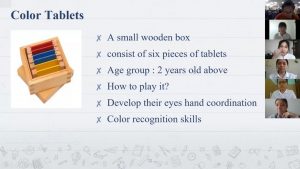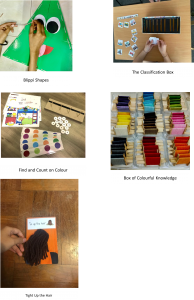 .tb_button {padding:1px;cursor:pointer;border-right: 1px solid #8b8b8b;border-left: 1px solid #FFF;border-bottom: 1px solid #fff;}.tb_button.hover {borer:2px outset #def; background-color: #f8f8f8 !important;}.ws_toolbar {z-index:100000} .ws_toolbar .ws_tb_btn {cursor:pointer;border:1px solid #555;padding:3px} .tb_highlight{background-color:yellow} .tb_hide {visibility:hidden} .ws_toolbar img {padding:2px;margin:0px}