SEGi College Penang recently held a collaborative student activity with our industry partner, Mamee, a leading name in the Malaysian food sector, to develop and sell Mamee'snew product, the Daebak sauces.
Mamee Group Assistant Director of Food Service of Mamee-Double Decker, Miss Jennifer Chee, presented our students with six new types of sauces, all of which are slated to go on the market very soon. The students were required to work in in groups of three or four to complete a project to create an online/offline campaign to help Daebak, a Mamee Malaysia subsidiary, retain and expand its present market share in Malaysia.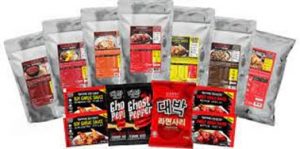 They also had to come up with a fresh campaign concept that focuses on the utilisation of tangible proof to improve brand image and consumer engagement using digital technologies such as social media marketing, email marketing, and content marketing. The new idea might be a unique concept or a modified benchmark from other firms. Additionally, the campaign was also focused on the promotion of Mamee Official Store's Daebak brand on Shopee and Lazada.
It brings us great pleasure to announce that one of the competition winners was Jodie and her team, one of our very own SEGi Penang students. "Hard work pays off," Jodie asserts, adding that "this has to be the most fulfilling sensation that the competition has to give.  It's simply unbelievable to put so much effort into something and then reap the benefits one day. There's nothing quite like triumph. I believe we should take time to reflect on our victory. It is crucial to understand and analyse how we win so we can do it again."
Oon Xin Yin, who also participated in the tournament, added, "I now have a deeper grasp of the Mamee Corporation because of this competition. I also learned how to utilise digital marketing to assist Mamee in developing a campaign to promote the six Mamee Daebak sauces. I also understand how to use the campaign to increase Mamee's sales in both physical and online retailers. I want to express my gratitude to Ms Jennifer and Mr Felix for guiding us throughout this competition."
"As an industrial apprentice, my team and I worked alongside specialists from several sectors to acquire hands-on experience throughout this industry-academe collaboration project," says Saw Wei Ming, another student. In brief, "I was able to get a taste of what it's like to work in the business and have a better understanding of how to apply what I learned in the classroom to advance my career. I am glad for the opportunity to work with Mamee because it has allowed me to meet individuals from many walks of life."
Learning in changing environments results in a variety of beneficial opportunities for both business and students of SEGi College Penang. Throughout this experiential learning, our students engage in this value-added learning process which deepens their understanding through hands-on learning and first-hand industry engagement.
Exposing our students to real-world industry projects allows them to learn through a succession of distinct learning aspects and learning experiences that take place over time and involve a variety of different ways and channels. In a varied academic community, SEGi College Penang is devoted to quality teaching, creative research, and the personal and intellectual growth of all our students.