18th February 2022 
9:00am to 1:00pm
Organised by: Segian Care Club, Segi College Penang
We recently had an online session with about 45 students from Segian Care (Ms Patricia Wee & Ms Ong Siew Ling), Sunderland (under Dr Balu & Ms Izreen) and Alumni Clubs. The participants were students taking the Diploma in Business Administration (DIBA), Diploma in Accounting (DIA), Diploma in Information Technology (DIIT), Certificates in Business (CIB) and UOS Bachelor of Business & Marketing (UOS BABMM).  
The session started with the students' registration: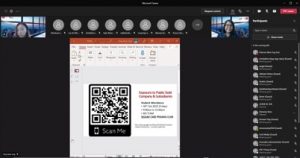 Students r
egistration session in progress
Followed by the photography session:
Ms
Doreen Yap, staff and students at the event.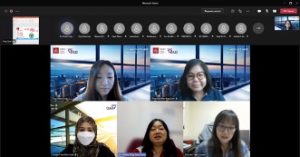 Ms Doreen Yap, Dr Vivien Ting, Ms Izreen, Ms Ong Siew Ling and Ms Patricia.
Dr Vivien (Head of School of Business & Accounting) gave an opening address, highlighting that the purpose of this event is to pique the students' curiosity in future career prospects with big ideas that will fill them with passion. She believes learning does not stop in the classroom. To live on the cutting edge requires an open mind. She encouraged the students to have an open mind which requires wakefulness. With that, they need alertness to think further than the eye sees and think deeper than what is considered the common way. Wakefulness is a skill that is developed by thinking, feeling, observing, experiencing, learning, and unlearning. In other words, it is an ongoing process and students must have the attitude of unlearning and relearning. Unlearning means releasing things and thoughts that misguide us. Relearning is regaining knowledge and skills that help us get on the bandwagon.

Dr Vivien Ting (SOBA, Head) at the opening of the event. 
Ms Doreen Yap (Executive Vice President of Group Human Resource Management, Public Gold) shared on the Public Gold companies and its subsidiaries.  She also shared each of the companies' products, services, and career opportunities of the group of companies.  She said that there are 6 main group of companies consisting of Public Gold, PG mall, Aurora Italia, Caely Holdings Berhad, Pharm Sdn Bhd and Koperasi Dagang Emas Pulau Pinang.  Public Gold products are mainly on gold and e-commerce.

Ms Doreen Yap, Executive Vice President of Group Human Resource Management, Public Gold.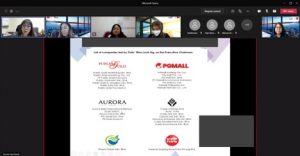 Ms Doreen Yap at her sharing. 
Dato' Wira Louis Ng Chun Hau established Public Gold in 2008 with its mission to be "Malaysia's most trusted company in coin and bullion trading since 2008".   He started his group of companies from its first outlet in Bukit Jambul, Penang, in 2008.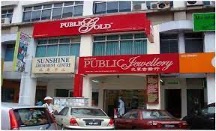 First Public Gold at Bukit Jambul Penang.
In the same year Public Gold entered the Malaysia Book of Records as the first locally manufactured certified gold bullions bar company.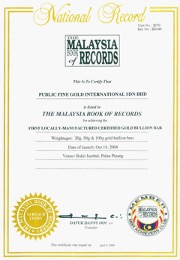 Public Gold Malaysia Book of Record title.
Since then the company has slowly been growing number of branches in Penang and later to north of Malaysia.  It established Public Gold Global Business Centre in Penang which was officiated by the Seri Paduka Baginda Raja Permaisuri Agong Tuanku Hajah Haminah on 15th March 2012.  Located at Plot 21, Technoplex, Medan Bayan Lepas, Taman Perindustrian Bayan Lepas Phase IV, 11900 Bayan Lepas, Pulau Pinang, Malaysia.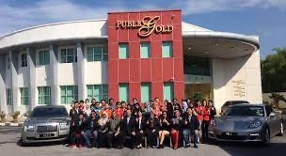 Public Gold Global Business Centre in Penang.

The Grand Opening of Public Gold Corporate Office – Now called PGGBC launched by Seri Paduka Baginda Raja Permaisuri Agong Tuanku Hajah Haminah on 15th March 2012. 
Public Gold now is expanding towards branches in Malaysia and Southeast Asian countries such as Indonesia, Vietnam, Myammar etc.  It has achieved many recognitions such as the largest safe-deposit box provider in Malaysia (PG Safe Penang), first Royal minter in Malaysia, accredited by London Bullion Market Associations, syariah endorsement for GSAP etc.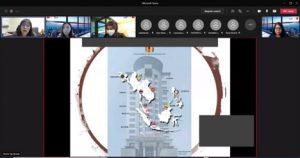 Public Gold expansion in Southeast Asian countries.
Dato Wira and his partners diversified his group of companies to the tourism industry by opening the first gold museum in Southeast Asia in 2015.  It closed due to the pandemic between 2020 and 2021.  It will open its doors again to the public in the future once the pandemic SOPs allows it.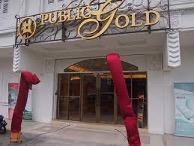 Public Gold Museum located in Bishop Street. 
Public Gold Group of Companies has been growing its customer base till today.  Today they have a growing customer base of over 400,000. Even during the pandemic, none of the group of branches closed, but instead, the pandemic improved their e-commerce sales more.   Their core values of unity, integrity, fairness, respect and communication which they have used for the last six year have brought their group of companies to be the success they are today.  They reached an estimated sales of more than RM2 billion today.

Menara Public Gold. 
Ms Doreen said she can accept student applications for internships and jobs for Penang and the branches in Malaysia.  Public Gold is expanding and needs people to fill these vacancies.  She stated that digital marketing and IT positions are their main recruitment as the company's core business is in e-commerce.  She also encouraged students such in business and accounting to fill their other vacancies within their group of companies.   
Segian Care Club hopes the students' knowledge of Public Gold has increased.  They learned not only in their classrooms but also outside the classroom as mentioned by Dr Vivien Ting.