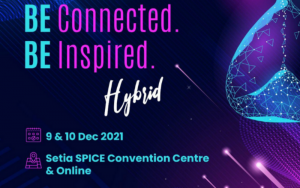 The pandemic has made a major turning point for the event industry as the way we meet has changed dramatically. Most of us have switched to virtual meeting. Many of us have recently turned to virtual collaboration tools such as Zoom, Microsoft Teams, Google Meets, etc., so that even though we cannot be together in the same space, we can still share ideas and stay productive. However, these tools don't have to be alternatives; they can be supplemental. Online meetings are surely useful, and make remote-collaboration possible, but fusing the benefits of the virtual with the physical will create events that go even further. Hence, the Penang Convention and Exhibition Bureau (PCEB) together with Anderes Fourdy Events, recently co-organised Penang's first hybrid business events conference.  
This 6th edition of [email protected] Penang was organised live at the Setia SPICE Convention Centre, and was streamed online. It was an honour for the School of Hospitality and Tourism to be invited to this event, and two lecturers and two students from the BSc (Hons) International Tourism and Hospitality Management programme attended this event in person. It was a great exposure for us as hybrid meetings combine the benefits of live and virtual interaction between presenters, in-person attendees, and virtual attendees.  
As the first in-person event to kick-off in Penang, the conference opened with the theme 'BE Connected. BE Inspired', signalling a fresh start in regaining momentum for organising and attending physical and hybrid conferences and events. Throughout both days, the organising committee, the delegates who were attending physically and other related conference personnel were required to undergo mandatory RTK testing upon registration and entry to the convention centre.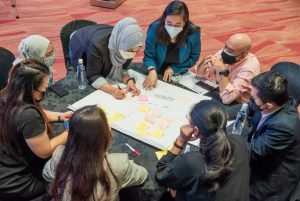 The conference focused on the domestic market for business events in light of global trends. Among the main topics to be explored were the outlook for business events in Malaysia 2022 and beyond, business opportunities in the new normal, the rise of multi-hub and hybrid events, monetising virtual and hybrid events, and maximising the social and legacy impact of business events. Apart from the physical conference, there were three other programmes which invited select delegates to take part in the Discover Penang Fam Tour, the ICCA workshop, and the Workshop by Leaderonomics.
To close the conference off, PCEB will be launching its new global marketing campaign 'BElong in Penang'. This campaign is part of PCEB's work with the Penang State Government and industry partners to drive the rejuvenation of the tourism and business events industry. On our side, we really hope that our participation has given valuable insights to our students.  
Students' Feedback:
I'm glad and thankful for the opportunity to join [email protected] 2021. This is the first time I joined a hybrid event. I had learned new things and increased my knowledge through this event. We can communicate and learn with people from different background and organizations while doing the group activity. Those experiences shared by them may help me in the future. I hope I have a chance to join again next time. – Chew Yan Thung

I am so glad to have an opportunity to participate in [email protected] 2021. Through this seminar, I learnt a new experience and gained a lot of knowledge. Thank you SOHT for giving me this opportunity, and I hope I will have the opportunity to attend such seminars in the coming year. – Kee Lee Ting