SEGi College Penang (SCPG) and the Association of Accounting Technicians (AAT), the world's largest professional organisation for accounting technicians, have formed a working collaboration. Three of our Diploma in Accounting (DIA) students are ready to complete three extra core assessments in Financial Statements of Limited Companies, Management Accounting, and Management Accounting Decision Making in 2022 to gain their dual Diploma status with SCPG.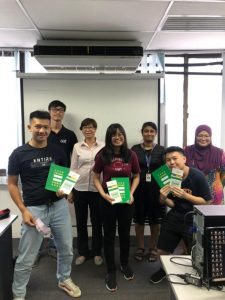 A briefing on the AAT related matters was carried out by Ms Pak MY (AAT representative of Malaysia, 3rd from the left) together with Ms Khairun (Programme Leader of Accounting, 1st from the right).
Skills that matter! Every organisation, regardless of size or sector, needs employees with financial and accounting skills. The AAT qualification is a good complement to our Accounting Diploma. Higher accounting activities such as producing financial statements, managing budgets and analysing financial performance, are covered by the professional diploma. Students will be able to specialise in areas such as tax, financial and management accounting, auditing, and credit control once they have completed the programme.
Why Should I Choose AAT?
Fast track to Chartered Accountancy
Boost my earning potential
Recognized by UK, US, and Commonwealth countries
AAT is a competency-based approach
Full recognised by ACCA, CAI, ICAEW and CIPFA
3 Papers exemption for ACCA (Applied Knowledge)
Aside from that, SQL accounting software is also embedded in the SCPG Diploma in Accounting programme.  Students who pass the assessment will receive an SQL certificate. We would say that our DIA students are competent in any accounting and finance job role ranging from accounting assistant to indirect tax/finance and payroll manager, as every business in Malaysia has been encouraged to implement SQL accounting for maximum output and optimal accounting services delivery.