On March 29 2022, around 100 academics from various schools and faculties, including Heads of Schools, Programme Leaders, and Lecturers from SEGi Sarawak, SEGi Kuala Lumpur, SEGi Subang Jaya, and SEGi Penang of the SEGi Group of Colleges, attended a cross-campus academic workshop.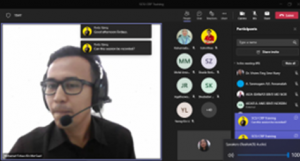 Over the last 45 years, there has undoubtedly been significant movement and vibrancy in the academic procedures across all colleges. However, the workshop was held with the goal of integrating the academic process and performance across all SEGi Group of Colleges campuses. This workshop's purpose is to make a modest attempt at academic integration.
In the course of an academic curriculum, students go through numerous assessments. Their level of achievement in the assessments indicates their competence to determine if students meet the academic requirements to proceed to the next level. Therefore, academic achievement has an important impact on the students' progression in each semester. Henceforth, all of us come together to share our knowledge in strengthening the school administration support with a comprehensive course performance record (CPR), we care for the assessment of student learning and keep track of the students' academic performance consistently.
The course learning outcomes (CLOs), the lecturer's input on the CLOs' attainment, student attendance analysis, and the lecturer's evaluation make up the CPR. The course performance report technically reflects both formative and summative assessment grades. The intended course learning outcomes, as well as the student achievement analysis report that contributed to the analysis of the programme learning outcomes, will be shown in the final grade of both components.
Mr Mohamad Firdaus bin Mat Saad, Programme Leader/Lecturer of the School of IT was sharing and gathering inputs from the participants to enhance the course performance report.
Mr Firdaus received a standing ovation from the audience for his kindness and helpful advice. Mr Firdaus deserves a shout-out for taking time out of his busy schedule to produce the course performance record template, which makes the convoluted academic procedure easier to navigate.