The SCPG Tourism and Hospitality Forum 2021 was organised in October 2021 with the objective to discuss the current situation of the country's tourism and hospitality sector and to share some valuable insights with our participants. The forum was divided into four different sessions featuring different industry players to share their opinions and expertise. It began with a welcome greeting by the host, Mr Lee Chin Ching, the Head of School from SOHT and continued with the opening speech by the Associate Dean of Hospitality of SEGi Group of Colleges, Mr Anand Raj Supramaniam. This was the first forum organised by the School of Hospitality and Tourism of SEGi College Penang.
Session 1: Tourism Webinar – "Revitalizing Tourism: Pathway towards the Future"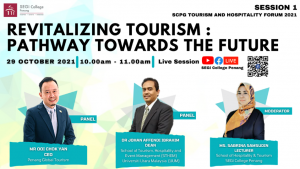 The first session in the forum was the tourism webinar which featured a panelist from the industry, Mr Ooi Chok Yan, the CEO of Penang Global Tourism.
Mr Ooi is responsible for generating tourism into Penang by working closely with key tourism players. Under his leadership since 2014, PGT has established signature events that draw large numbers of visitors to Penang where two Guinness World Records were accomplished. The second panelist was Dr Johan Afendi Ibrahim, Dean of the School of Tourism, Hospitality and Event Management (STHEM) Universiti Utara Malaysia (UUM). Being in academia for almost fourteen years, Dr Johan has been teaching, researching, and writing in the areas of tourism management, tourism policy, tourism geography and tourism planning, especially on issues related to destination development in Malaysia.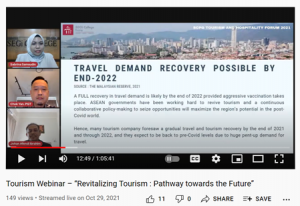 As the world's tourism turns to domestic travel to boost the restart and recovery of the sector in times of the COVID-19 pandemic, this discussion aimed to explore the domestic tourism market and provide the tourism sector and traveller with examples of initiatives implemented to promote domestic travel and restore confidence.  Moderated by Ms Sabrina, the session discussed the roles of PGT as a tourism organisation and how they have implemented new policies for the pandemic o revitalise the tourism industry in Penang. Aside from that, Dr Johan Afendi also shared their experiences and opinions on the current situation especially during the pandemic and the possibilities that may be faced by the travel industry.
This interactive session received great response not only from our students, but also from students from other colleges such as SEGi College Subang Jaya, SEGi College Kuala Lumpur, LimKokWing University, as well as UOW Malaysia KDU University College. Through this platform, the participants were given opportunities to ask the experts questions related to the industry. Please refer to the given link for the fully recorded session: https://youtu.be/C_VUHKyq3uM
Session 2: Hospitality Webinar – "Travel Bubbles Reopening: How Prepared is the hotel industry?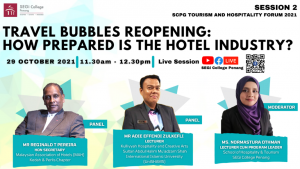 The second session of the hospitality webinar was hosted by Ms Normastura Othman, who discussed the topic of Travel Bubbles Reopening: How Prepared is the Hotel Industry, in conjunction with the announcement of the travel-bubble reopening by the government on 16 September 2021. In a symbolic move for those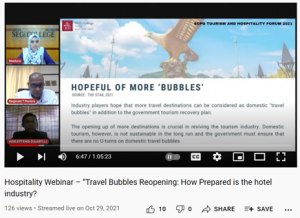 dreaming of blue skies and shining white sands, Langkawi was reopened to domestic tourists on 16 September as the pilot travel bubble, but limited to only fully vaccinated locals, with SOPs. To discuss more about the hotel sops and acceptance by the local tourists, Mr Reginald T Pereira was invited as the first speaker. Mr Reginald is the Honorary Secretary of the Malaysian Association of Hotels (MAH) Kedah and Perlis Chapter, and also the President and CEO of Aariana Hospitality International. Taking Tanjung Rhu Resort Langkawi as an example, Mr Reginald explained about many new SOPs that have been added in running a hotel on a daily basis, including the cleaning process, the customer-arrival process, and the staff health-observation process, among others. These processes and SOPs were fully accepted by the staff as they looked forward to starting operations again. Guests coming from outside of Langkawi were fully aware of all the SOPs that they had to follow from the airport and jetty all the way to the checkout process. However, there were also minor issues with a few guests who were reluctant to follow SOPs and had to be denied entry into the hotel.
The second panelist was Mr Adie Effendi Zulkifli, a lecturer from the Kulliyah Hospitality and Creative Arts Sultan Abdul Halim Mu'adzam Shah International Islamic University (UniSHAMS). He has vast experience in the academic field and is involved in many activities related to tourism and hospitality. Mr Adie shared on a few studies that show that the number of tourists arrival is expected to increase in the near future and his confidence that the travel bubbles is the beginning of the overall opening of the industry. He also raised academic issues and barriers that come together with the travel restrictions that had been put in place since 2020. Both panelists were positive that the travel and tourism industry will refresh and come back to life. The overall session was very fruitful, with both panelists spending almost an hour sharing and also answering some questions from the floor. Please refer to the given link for the fully recorded session: https://youtu.be/aeTbe2WlxMA
Session 3: Alumni Tea Talk Session: "Story About Us"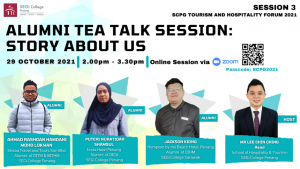 This session featured SEGi Alumni with the motivation to encourage students to further their studies and to share their valuable experiences in their workplace and the challenges they have faced in these post pandemic times.
In this session, we invited Mr Jackson Kiong, a graduate of the Diploma in Hotel Management of  SEGi College Sarawak. Currently working as an HR executive at the Hompton Hotel Penang. He graduated ten years ago from SEGi College Sarawak and has gained valuable experience in the hotel industry. He encouraged all SEGi students to never stop exploring, but to continue to gain more knowledge at higher levels. Our student Ahmad Rashdan graduated with the Diploma in Tourism Management and  BSc (Hons) International Tourism and Hospitality Management.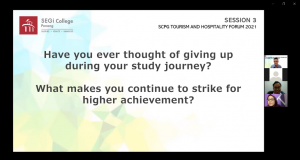 Graduating in 2020, it was a tough period for him because the COVID-19 pandemic affected his travel business. In September 2021, the travel business slowly began its recovery. He told SEGi students to never give up but to continue to always stay positive. Puteri, our Culinary Art graduate, works at Ixora Hotel Penang. She said that every lesson by her lecturers at SEGi College Penang was valuable for her. She has learned to use all the skills and knowledge she acquired here in the industry. She said she felt lucky that SEGi has created many memorable experiences for her study life.
Session 4: Alumni Talk Session 2 – "Budding Enterpreneur's Journey"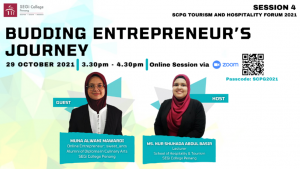 The Budding Entrepreneur's Journey was a sharing session by an online entrepreneur who is also an alumni from the Diploma in Culinary Arts.  An online entrepreneur is a business owner that conducts business on the Internet. Like other entrepreneurs, she/he often takes financial and other personal risks to launch his/her own company. This session was to encourage students to venture into their own business after completing their studies.  In this session, we invited Ms Muna Alwani Mawardi, an online entrepreneur who owns Sweet Ants, which sells desserts. Using Instagram as her business platform, she has managed to reach out to lots of customers. Starting with only one signature menu, she has now expanded by offering different types of cakes and sweet treats as there demand from customers increases. Ms Muna started her business during the Movement Control Order in Malaysia in 2020. We can see that the pandemic has brought many challenges to entrepreneurs and SME's but it has also brought new opportunities to some enterprising people. Throughout the session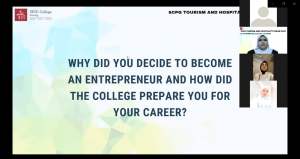 Ms Muna shared that in everything we venture into, we should continue to stay focused and not be lazy.
We hope that our efforts in organising such forums will benefit not only our students, but also industry players and the general public. We look forward to conducting more forums and collaborations with industry players in the near future in order to fulfil the learning experience and development of our students.