In adhering to the Government's MCO announced by Prime Minister Tan Sri Muhyiddin Yassin on 11 January 2021, there are three (3) categories of MCO which are MCO (for Penang, Selangor, Federal Territory (KL, Putrajaya, Labuan), Malacca, Johor and Sabah), Conditional MCO (for Pahang, Perak, Negeri Sembilan, Kedah, Terengganu, Kelantan) and Recovery MCO (for Perlis and Sarawak). The MCO, which is made under the Prevention and Control of Infectious Diseases Act 1988 and the Police Act 1967, has ordered for the closure of all non-essential business premises and public and private education institutions nationwide.
Following this, SEGi University and Colleges will be closing all its premises located in the MCO states namely Kota Damansara, Kuala Lumpur, Subang, and Penang, except for Sarawak, effective 13 January 2021. Online classes are on-going as per the arrangement by the respective faculties. Students are to continue communicating with the faculty members regarding classes and examinations. Students are reminded to adhere to the rules under the MCO, including avoiding any form of traveling or gathering with peers during this period. Sarawak which is under the state's RMCO will operate as usual with students attending hybrid classes (online and physical). All operational and management employees are to refer to their respective Heads of Department (HOD) and contact respective HRM office for clarification regarding work arrangements and the business continuity plan within the said period. Employees working from home and other sites are to remain contactable via WhatsApp, email, mobile phone, etc., during working hours.
SEGi University & Colleges will follow the progress of COVID-19 situation and adhere to the guidelines imposed by the government. We will also continue to update all students and employees. Your safety and health are of the utmost importance to us. The management would like to urge everyone to stay safe during this period.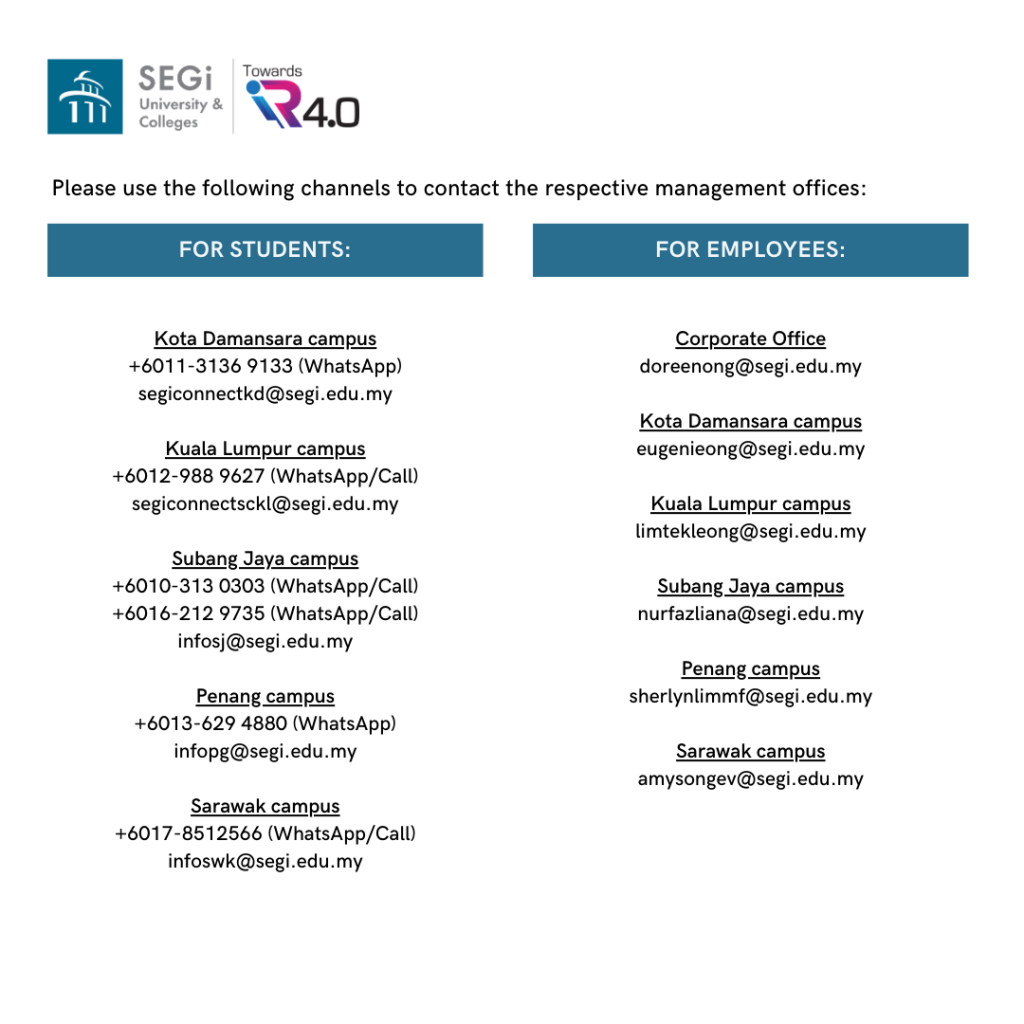 The Management of SEGi University & Colleges