Industrial visits are considered important occasions for students as the objective of an is to provide them with an insight regarding internal working systems of industries. As many different types of hotels exist these days, it's important for hospitality students to get an idea of what awaits them in the industry. Hence, to expose first-year students to the exciting, yet demanding standards of hospitality excellence in the industry, School of Hospitality and Tourism had organized industrial visits to hotel almost every semester. This visits also provide opportunities for students to find out how hotels function and discover unique concepts of hotels. Even though we are in CMCO period, but we still want to make sure that there will be continuous learning process for our students.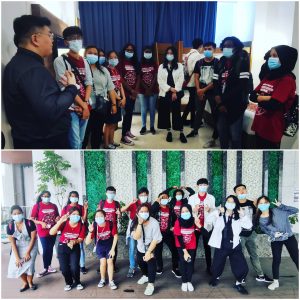 For their first hotel visit, a group of diploma students visited Hompton by the beach Penang, which located at Tanjung Tokong. It is a 4-star hotel with the persona of 'home', offering travellers a restful sojourn along the strategic seafront. The students were greeted by the hotel's human resource assistant on duty, Ms Kertana Supramaniam who is also one of our alumnus. The first session started with briefing by Mr Lawrence Ayerru, Hompton's human resource manager. It was a great sharing session by him as he shared a lots of information on the hotel background and operations till his personal experiences in the industry. At the end of the first session, students had the opportunity to ask the Mr Lawrence questions about the hotel and issues which related with hospitality industry.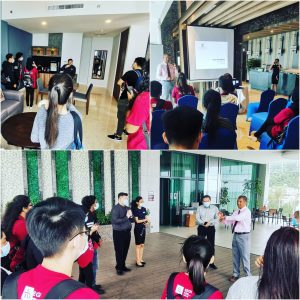 After breakfast, the second session continued with hotel tour which conducted by Mr Jackson Kiong, Hompton's training executive. During the one-hour tour, students had explored different departments of the hotel such as F&B service, front office, and housekeeping. Students also visited the front of the house areas including lobby, restaurants, gymnasium, swimming pool and the banquet halls. Aside of that, students were given opportunity to visit different types of guest rooms as well. Students enjoyed this session very much as they were given opportunity to engage with daily operation routines like room service and housekeeping.
At the end of the visit, students were addressed by the general manager, Mr Jimmy Chan. His presence during our visit means a lot as he shared his personal experiences while encourage and motivate the students to be in the industry for a long run. Overall, it was an excellent experience for all and a fun way to discover a hotel! Although classroom learning is highly enjoyable, taking students into a workplace environment where they can see how this works in a real-life capacity is also beneficial as students could see how that a company operates whilst gaining knowledge about job opportunities after education.