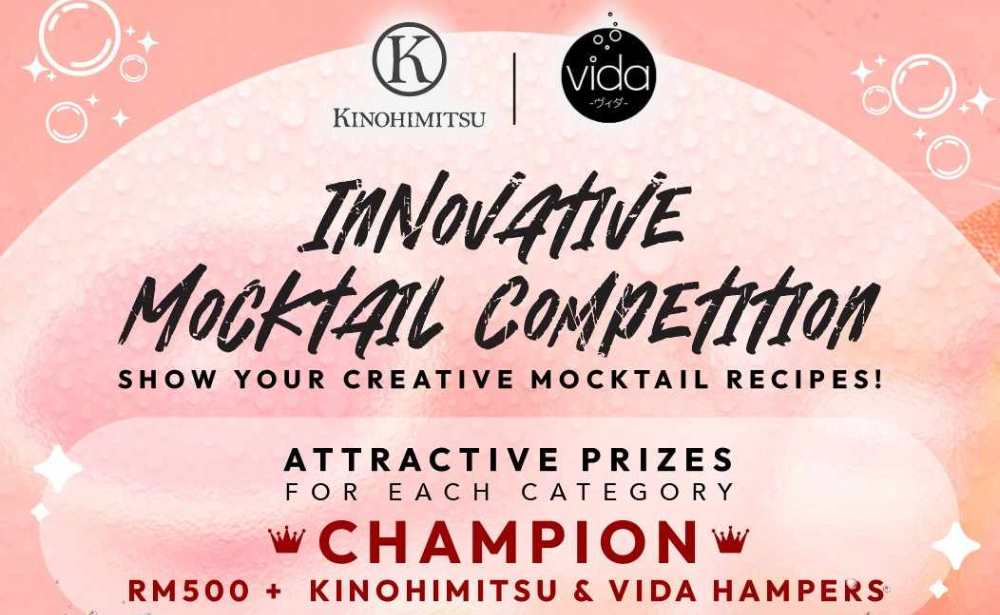 Welcome to the Innovative Mocktail Competition – where the ordinary becomes extraordinary, and every sip is a work of art!
Get ready to embark on a journey of flavors, innovation, and friendly rivalry as budding mixologists from across the campus converge to craft the most imaginative and delightful mocktails!
Interested? Here's what you should do:
Step 1: Register as an individual or a team (max. 2 members) at http://t2u.asia/e/32626
Step 2: Participate in BEAUTY or SLIMMING category
Step 3: Create a video (less than one minute) to introduce your mocktail beverage recipe using a product from Hinomitsu and VIDA, upload to your IG or TikTok (hashtags: @kinohimitsumy @vidamalaysia and hashtag #KinohimitsuMY, #vidamalaysia and #SEGimocktailcontest).
The champion of the Innovative Mocktail Competition will take home RM500 + Kinohimitsu & Vida Hampers.
EXTENDED: Final Stage of the Innovative Mocktail Competition is on 13 October 2023!