SEGi College Penang held its 20th convocation on 20 May 2022 at the SPICE Convention Centre, Penang. Three hundred and five students across twelve programmes from two institutions (SEGi College Penang and the University of Greenwich) received their scrolls, of which total of seventy-one were first-class-honours achievers. This translates into one in four graduates (23%) graduates. Dr Raj Dass, Principal Lecturer of International Partnerships (South East Asia) from the University of Greenwich, said "We are extremely proud of our University of Greenwich's students from SEGi College Penang. The design of the SEGi-University of Greenwich Programmes is in response to listening and working with employers who have informed us of the kind of skillsets and knowledge that they wish to hire. The fact that these SEGi students excel in the programme is a good indication that they posses the right skills and talents to meet the industry's needs globally. Year after year, our high graduate employment rates is another testament to our programme's relevance and competitiveness in the Malaysian and the greater global context. "
The valedictorian this year was Ms Chiam Sook Ping from the BA (Hons) Early Years Education awarded by University of Greenwich.  Professor Jane Roscoe, Deputy Vice Chancellor, University of Greenwich, remarked, "We are extremely proud of all of our UoG graduates at SEGi. Over the years, SEGi, in partnership with UoG continues to produce countless excellent students who are not only proficient academically but interpersonally as well. Congratulations to all these graduates and well done to all our lecturers based in Malaysia as well as in the UK for delivering quality and in-demand programmes."
The Best Student Award is given to SEGi College Penang's home-grown programme (Certificate, Foundation and Diploma Programmes) students who score the highest CGPA in their programmes. The recipients this year are Loke Pik Ying (Diploma in Hotel Management), Khor Sin Jo (Diploma in Early Childhood Education), Ang Wei Jin (Diploma in Information Technology) and Omar Ahmed Mohammed Obeid (Diploma in Tourism Management).
The Outstanding Student Award is given to the student with the best academic performance among all SEGi College Penang homegrown programmes, and this year the recipient is Loke pik Ying.
Ms Cheah Giak Chiam, Principal of SEGi College Penang, said, "The class of 2022 rose above the challenges of the COVID-19 pandemic. They have proven that they have what it takes to succeed."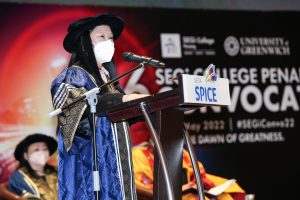 This convocation was the first major live event for the college since the pandemic, and we are extremely grateful to all our partner-university representatives who joined us in this celebration of our students' victories.
SEGi College Penang congratulates all graduates and wishes them all the very best in their future undertakings.