On 26 March 2022, SEGi College Penang's School of Allied Health Sciences (SOAHS) and School of Hospitality and Tourism (SOHT) joined a road-tour programme been initiated by our Sales and Marketing Department named Anak-anak Kampung. It was the first of the road-tour programme series conducted by the department.
The objective of the programme is to approach 'anak-anak kampung' and provide them with information about SEGi College Penang and the programmes we offer. This initial road tour focused on our newest programme, the Diploma in Occupational Safety and Health (DIOSH).
The first village chosen was Kampung Sungai Rusa, a small Malay village located between Balik Pulau and Kuala Sungai Pinang.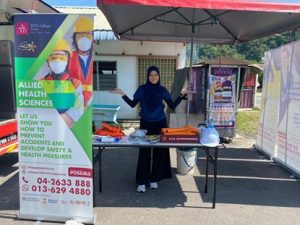 During the road tour, teams from SOAHS, SOHT, and Sales and Marketing worked together to ensure that the objective of the programme was Our accomplished. For SOAHS set up a booth to display a few of the Personal Protective Equipment (PPE) that we had brought from our laboratory. We explained to the villagers the use of this equipment and gave them information about DIOSH.
Overall, it was a good experience for SOAHS as this was our first road tour of this kind.