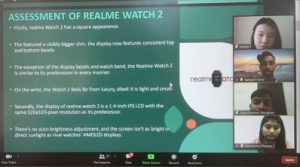 Consumer behaviour analysis continues to be an interesting topic and requires the attention of both social scientists and business executives that are of central concern to an understanding of marketer and consumer behaviour. Human behaviour is confined to cognitive psychology, which includes mental process, perception, and decision-making, all of which contribute to economic behaviour, notably consumption. What form should be taken as a behavioural explanation of consumer choice? This key question should underlie the development of any new product. Despite a broad spectrum of disciplines that investigates consumer behaviour, and despite this special issue in the area of marketing, there are still areas open for research into consumer behaviour in marketing.
Through the academic-industry collaboration between SEGi College Penang and Realme recently, students got the opportunity to develop an understanding of theories relating to consumer behaviour, and how consumer behaviour informs marketing practice. Realme is an Android-based smartphone brand created by Realme Chongqing Mobile Telecommunications Corporation, Ltd, a Shenzhen-based manufacturer. It was launched on May 4 2018, by Li Bingzhong, a former vice president of Oppo. Bringing this business to SEGi College Penang was one of the most significant industrial moves in the history of the College. In the industry-based assignment, students were instructed to conduct a micromarketing study to determine consumer preference or purchase intent for consumer electronics, such as Realme wireless earbuds or the Realme smartwatch.
The learning outcomes that these students produced were outstanding. The students were able to present appealingly while also engaging with the Realme sector. The members of the student team at SEGI College Penang helped each other, contributed their fair share of the effort, and demonstrated a common understanding of the subject. This hands-on project laid a foundation in understanding the concepts of behavioural studies which influence a consumer in the buying process. A student named Haarivindren A/L Morghan said that "I just wanted to express how much I liked being a part of this project. It is something I would like to re-visit in the future. I hope SEGi College Penang could bring more industries like Realme into our business modules as it makes me realise how important it is for me to gain as much knowledge about the real world once I have graduated." He added, "From this project, I learned how to work as part of a team and how to communicate well with others. If I had one tiny request, I would like to say to keep this programme where industries are correlated with the College because I need to have this experience to prepare me for the industry".
From another perspective, another student name Samuel A/L Haraintheran mentioned that "it was a great opportunity for us as students to be given a chance to speak on our behalf of the product. Not going to lie, I have personally never been participated in any bigger project than this, but I believe this is the start of a new chapter. I also hope to get another opportunity like this and be more confident in the future."
Realme was able to better view and understand the marketplace by allowing the students to launch their new and upcoming product, the Realme wireless earbuds and Realme smartwatch, with some background research and knowledge provided by the students' research. The monetary gain and competitiveness of the business world in contrast with a concern for helping others and society of the academic world are being amalgamated into this classroom. It is worth highlighting that all stakeholders are committed to self-development as a goal in both the academic and business world.