SEGi College Kuala Lumpur is very pleased and honoured to say that our nursing programme is recognised as one of the most prestigious and established ones in Malaysia. Anyone with the calling and desire to serve our communities as a nurse would do well to study here at SEGi.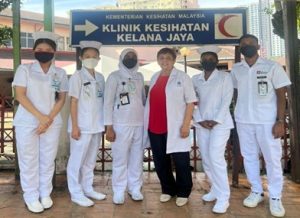 With our comprehensive and extensive curriculum, your education will be more than well spoken for, because we are proud to say we have a large network of nursing alumni who have found noteworthy placements both locally and abroad. Currently our Diploma in Nursing is structured as a nine-semester programme which will take three years to complete. We offer this length of study in the programme because we care about the study load on our nursing students, and want to give them the full opportunity to excel in the course. Because after all, the success of our students is our own success.
Our nursing students will be able to complete all their modules within the projected three years at a comfortable pace and with much achievable success in our well-distributed workload each semester.
Here at SCKL we empathise with not just our students, but people in general, and we want to empower all our students with a student-centric learning that brings them to their maximum potential.
If you have dreams of becoming a professional nurse, come to SCKL where we will take you on a wonderful journey to the realisation of your dream of being a wonderful nurse. Call us today.