Accounting and Finance is a fun adventure at Segi College Kuala Lumpur. Where,many programmes  are offered for those interested in the field, from certificates, foundations, diplomas, to degree courses.
SEGi teaches the most essential subjects such as financial accounting, cost accounting, managerial accounting, computerised accounting, finance, and corporate finance, equipping our students with all they need to succeed in a career in this field.
Accounting and Finance courses are a popular choice for those embarking on their careers because these are two of the most critical components of any business, from start-ups to large multinational companies.
SEGi's lecturers take great efforts to incorporate real-world elements into our classes and programme modules so that students can shine not only in the classroom but out there in the midst of their chosen careers.
Part of the programme at SEGi uses case studies and invites professional accounting and finance practitioners to give talks, share their expertise, take students to on-site visits, and involve them in simulations and class discussions to provide the best experience possible. The professional practitioners also give the students a complete understanding of what the job in accounting and finance requires, as well as the problems they might face when working in one of these fields.
As an integral part of students' education at SEGi, accounting students will learn how to prepare full sets of accounts, such as statements of comprehensive income, statements of financial positions, statements of cash flows, bank reconciliations, budgeting, and many other technical requirements in this area, with appropriate formatting.
SEGi's finance modules deal with theories and techniques in the financial decision-making process in the corporate contexts of national and international businesses. SEGi ensures that students obtain adequate practical application of knowledge gained in the classroom, such as examining financial and investment techniques, allowing them to discover and demonstrate problem-solving and critical skills in analysing financial information.
Call SEGi today and start your way to a brilliant career in Accounting and Finance! Or visit segi.edu.my for more information.
Computerised Accounting Class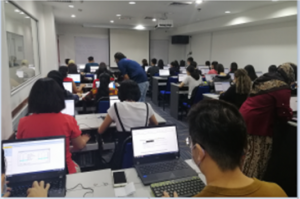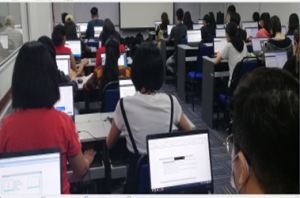 Accounting and Finance Club: Talks and Outdoor Activities