Nursing Education's Preparation for Industry Revolution 4.0 (IR 4.0)
During the era of the 4th Industrial Revolution, nursing education has offered plenty of room for nursing students to cope with this disruptive innovation. In today's turbulent learning environment, the School of Nursing at SEGi Kuala Lumpur is ready to inspire nurse educators and also nursing students as they explore the merits of this disruptive innovation. The personalised adaptive learning introduced by SEGi Kuala Lumpur will align with learner diversity and professional roles (for nurse educators) upon this continuous flow of disruption and innovation of IR 4.0.
In Malaysia, the nursing education landscape has shifted to become an Outcome-Based Education (OBE). This outcome-based learning curriculum requires nursing students to be prepared to meet the demands of the nursing profession with a high level of competency as they enter the real clinical environment in the future. The introduction of OBE in nursing education has proven to improve competency in knowledge, cognitive skills, clinical skills and nursing core competencies with high behavioural skills while performing procedures (Tan, Chong, Subramaniam, & Wong, 2018). This dynamic interaction in the advancement of technology in OBE nursing education may have a direct influence on the students' academic and clinical performances which therefore they need to understand what a digital life look like nowadays and compare it to how it looked before (Aungsuroch & Gunawan, 2019).
In order to meet the demands of OBE and IR 4.0, the School of Nursing at SEGi Kuala Lumpur has offered the flipped classroom model for teaching and learning. Nurse educators have to be prepared with the necessary skills and creativity in managing this flipped classroom whereby the traditional teacher‐centred lecture is will be doing outside the face to face class.  This flipped classroom is normally done by recording videos and lectures in a special room which is available at the college. The recorded videos or lectures will be available for nursing students to watch, discuss and replay at their own time outside of class. The advantage of this method leaves the classroom slot free for "discussion" activities, thereby enabling the class content to focus more on problem‐based learning, inquiry‐based learning, project‐based learning and cooperative learning. Other than the flipped classroom, changes can be seen from face-to-face classes to virtual learning classes including E-learning and long-distance learning through the Blackboard Learn System Software, Panopto Video Streaming, video conferencing through Zoom and many more methods. In nursing practice, the IR 4.0 has offered the use of Bluetooth stethoscopes in enhancing the students' learning experiences by listening to different body sounds and by interpreting the findings for better nursing process.  This advancement in technology in using the Bluetooth stethoscopes has allowed students to connect and save information using their own smart devices. Virtual discussions on the findings can be done at a later time (Dalbey, Zenoni & Fuller, 2019). Overall, implementing the available learning strategies in meeting the current demand will help nursing students to cope with stress in the nursing program, especially regarding retention and performance (Ab Latif & Mat Nor, 2019). It is very important among nursing students to deal with stress and adapt themselves to the current advancement in technology in order to benefit optimally from IR 4.0 education.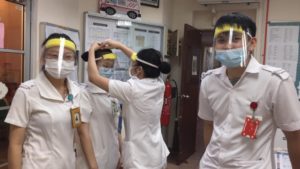 Overall, IR 4.0 in higher education has enabled nursing students at SEGi Kuala Lumpur to apply knowledge as well as to develop their psychomotor skills to the utmost. We are preparing our students with online classroom teaching using cyber-physical systems, cloud and digital technology anywhere and everywhere. In coping with this IR 4.0 era, the college management team, educators and the supporting staff need to be extra flexible and creative in dealing with the medium of communication in enhancing collaborative skills among each other in order to develop a positive professional identity.
                                                                                                            Siti Nur Baizura Ab Razak
                                                                                                            Programme Leader, 
                                                                                                            School of Nursing,
                                                                                                            SEGi College Kuala Lumpur
References
Ab Latif, R. & Mat Nor, M. Z., School of Medical Sciences, Health Campus, Universiti Sains Malaysia, Kubang Kerian, Kelantan, Malaysia, & Kubang Kerian Nursing College, Kubang Kerian, Kelantan, Malaysia. (2019). Stressors and coping strategies during clinical practice among diploma nursing students. The Malaysian Journal of Medical Sciences : MJMS, 26(2), 88-98. doi:10.21315/mjms2019.26.2.10
Aungsuroch, Y., & Gunawan, J. (2019). Viewpoint: Nurses preparation in the era of the fourth industrial revolution. Belitung Nursing Journal, 5(1), 1-2. doi:10.33546/bnj.744
Dalbey, S., Zenoni, L., & Fuller, S. (2019). Utilization of digital bluetooth stethoscopes to enhance student learning. Nurse Educator, 44(5), 283-283. doi:10.1097/NNE.0000000000000700
Tan, K., Chong, M. C., Subramaniam, P., & Wong, L. P. (2018). The effectiveness of outcome based education on the competencies of nursing students: A systematic review. Nurse Education Today, 64, 180-189. doi:10.1016/j.nedt.2017.