By Thevagi Selvamaney, Lecturer, School of Communication and Creative Arts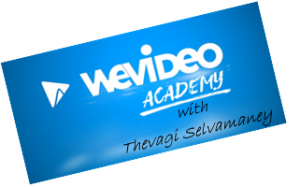 Why buy a card on Mother's Day for your Beloved Mom when you can send a video that includes pictures of you? It's an easy way to spread love and joy on this very special day that's not just about her, but also about you. This is one of the most special days for you and your Mom. Never made a video before? Well, have no fear because SEGi is here! And we're here to tell you that with WeVideo, directing your own video is simple and quick. All you need is creativity, a willingness to have fun, and most easily yet most importantly, love for your mother.
You'll need a WeVideo account to help you to create a video. If you don't have one, sign up for FREE when you log in to the WeVideo website.
1.  Start from scratch or choose a Mother's Day template
From your 'Dashboard', click Browse all > Library > Seasonal, and choose a template to work with. Customise and make it your own by uploading and using your own images and videos, and change the text and sound effects to your liking. Once you have it the way you like it, skip to step 6 and export your finished video.
If you're not sure how to get started and need a little inspiration, you may give one of WeVideo's customisable Mother's Day templates a try. Templates come complete with audio, sound effects and text. If you're not using the template, start a new edit and choose from one of three formats (square, horizontal or vertical) from your 'Dashboard'.
2. Upload your media
It's simple to import your media to WeVideo. You may upload directly from your computer or import from sites such as Dropbox, Google Drive, Facebook, Instagram and many other interesting sites. If you're using a mobile device, you may upload photos and videos using the WeVideo app for iPhone or Android. From there, you can continue your editing process using WeVideo's full-featured, cloud-based web app on your laptop or desktop.
3. Put things in motion with animation
The easiest way to add motion to your videos is with the 'Ken Burns Effect'. This can be done by simply taking a photo in your timeline. Then do the panning and zooming which creates the effect of a camera recording footage. After dropping the photos into your timeline, you can add the 'Ken Burns Effect' to each individually or all photos simultaneously.
4. Add motion titles for text
The texts can be chosen from one of WeVideo's Mother's Day-themed motion titles or from one of the many others in WeVideo library. You can add single or multiple layers of text to your video to send your message.
5. Hit the right note
Every WeVideo account comes with a library of music. You may use this to your advantage and add music that will pull on the heartstrings of your mother – undoubtedly you know what she likes.
6. Export and share with the one(s) you love
And now you've done it! You've uploaded your videos and photos, added motion titles, some music and effects, now your Mother's Day masterpiece is complete. All that is left is choosing your resolution and exporting directly to your Google Drive, YouTube or elsewhere. Once exported you can download and share the video to your mother! If you wish to show your masterpiece to the public, you can share with a link, embed it on your website, or share on social media.
Just because we're away from your Moms this year doesn't mean that we can't find creative ways to share our love for our Mom. She IS the only one we have after all. Don't let 2021 take away the magic that this time of the year brings. Find joy and make memories in every moment. Show your love to that Wonderful Woman without whom you wouldn't be here. Here at SEGi, we're cheering you on!