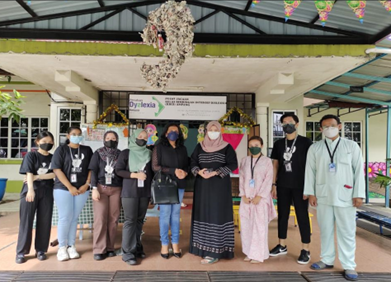 SEGi College Kuala Lumpur Diploma in Early Childhood Education students paid an educational visit to the Dyslexia Association of Malaysia, on 8 July 2022,
Dyslexia is a learning disorder that involves difficulty in reading due to problems identifying speech sounds and learning how they relate to letters and words. Also known as a reading disability, dyslexia affects areas of the brain that processes language.
This was a wonderful opportunity for our students and future educators to learn about children with learning disabilities outside the classroom. The Dyslexia Association of Malaysia is an institution devoted to providing education, welfare, and awareness to all its stakeholders involved in learning disabilities. The association's higher management took the time to explain their programmes designed for dyslexic children. This form of information sharing comes straight from the actual work environment gives our students real-time job specifications and mastery needed to be effective and inclusive educators.
Our students were thrilled and motivated to conduct their observations to meet the objectives set in this case-presentation project and were able to use vocabularies related to learning difficulties, special needs education, and inclusive teaching methods.
Inclusive education is the way to go at SEGi College Kuala Lumpur. We believe an early-learning environment must provide space and hearts for all children to learn and participate together. As early-year educators, we ensure that our students can enhance their knowledge and competence in handling children with different learning experiences.
At SEGi College Kuala Lumpur, we take our students' experiences seriously. We are determined to give them the best theoretical and practical skills and comprehension to help make their dreams come true. Call us today to realise your dreams.
https://colleges.segi.edu.my/kualalumpur/courses-and-careers/