By Nur Hanani Binti Thaldiri, Lecturer, School of Allied Health Sciences
How a COVID-19 Outbreak Could Affect the Workplace?
Coronavirus Disease 2019 (COVID-19) is an infectious respiratory disease caused by a newly discovered coronavirus. This disease has been spreading from China to other countries throughout the world since 2019 and has become a major concern nowadays.
There has been a lot of reported cases since 2019 and this has affected all aspect of daily life including travel, trade, tourism, food supplies and the financial markets. It also has caused plummeting oil prices, knock-on effects on trade and global tourism to shut down. Outbreaks of COVID-19 could lead a workplace to experience staff absenteeism i.e. they are sick or they have become caregivers to sick family members and children if schools or daycare centres are closed. It can also cause changes in shopping patterns and increases in-home delivery services.
In order to reduce the impact of COVID-19 outbreak on businesses, workers, customers and the public, it is very important for every employer to sanitize his workplace in order to stop the spread of COVID-19. Every employer must prepare for the worst possible scenario. Lack of preparedness and planning can result in the failure of the employers in addressing the challenges of COVID-19.
COVID-19 can be spread mainly from person-to-person including between people who are in close contact with one another and through respiratory droplets produced when an infected person coughs or sneezes. The droplets can land on people who are nearby or inhaled into their lungs. It was said that this disease can also be spread to others through asymptomatic transmission.
The illness caused by COVID-19 can range from mild to severe, and in some cases, it can be fatal. The typical symptoms of those who have been infected by COVID-19 include fever, cough and shortness of breath. Some people might even experience non-respiratory symptoms or no symptoms at all.
Before the outbreak occurs at the workplace, an employer needs to develop an infectious disease preparedness and response plan that can guide everyone against COVID-19. The plan must consider how to incorporate recommendations and resources into workplace practices and it also must address the level of risks associated with various worksites and job tasks that the workers perform.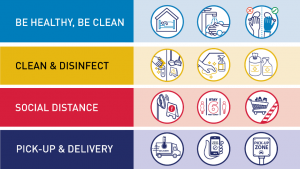 Source: www.fda.gov
All employers must implement good hygiene practices such as promoting frequent hand washing including providing workers, customers and visitors with a place to wash their hands. Employers should also implement infection control practices by encouraging workers to stay at home if they are sick and to implement social distancing while working. Employers and employees must maintain regular housekeeping practices including routine cleaning and disinfecting of work surfaces. An employer needs to encourage his employees to self-monitor themselves for any signs and symptoms of COVID-19. Every workplace needs to implement policies and procedures where employees can report to their immediate supervisors if they develop symptoms of COVID-19. It is critical for every workplace to identify and isolate potentially infectious individuals in order to protect their workers, customers, visitors and others at the worksite. Restricting the number of personnel entering isolation areas can help in stopping the spread of COVID-19. Administrative controls must be carried out at the workplace to protect workers from having close contact with a sick person or prolong contact with such a person.