By Rishikumar A/L Selvadurai, Senior Lecturer, School of Business
Industry 4.0 relates to the digitization of the industrial processes in order to create an efficient production process and the implementation of a service network without the need of humans. Basically, it is a self-sustaining, automated system which will do everything 24/7. A smart factory will be constructed where all the data is stored. All decisions are made here. Humans will be able to monitor the statistics and any other data on a platform. The main benefits of IR 4.0 are that by implementing this, production quality will be improved and operational performance will be enhanced.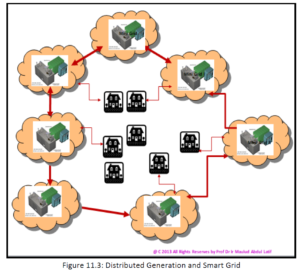 This figure, which was taken from the book "Engineering Finance and Techno-Financial model for engineers and accountants made easy", depicted clearly what a smart city power system should look like. The logic behind this figure is that, if one station fails, the others can make up for the loss. Therefore, there will be less disruption.
However, Industry 4.0 does not stop with factories and manufacturing, it extends to even marketers. For marketers, IR 4.0 could turn manufacturers into digital enterprises. Marketers will need to assess their own digital infrastructures to see if they can hold up to today's' challenges. Since the internet has made the world "borderless", the competition and the customer base of the organisation have expanded from domestic to international. On the other hand, by not embracing Industry 4.0, an organisation could lose all of its potential customers and lose out to its rivals. Marketers in Industry 4.0 will need to have many features in order to make them relevant. Features such as connectivity, proactivity, agility, optimization are all needed to ensure a smooth transition to IR 4.0. Many manufacturing businesses try to use digital marketing. However, many only do a little or are still relying on traditional marketing channels. Many organisations are still depending mainly on trade shows or print media. But there are still a lot more that can be done online and it is frequently more effective and much cheaper than their offline methods. However, it does not mean that organisations should stop all of their offline marketing activities. Digital marketing works best when it is used in combination with whatever currently works for the organization as it will help to supplement the organisation's other marketing activities. The trick is to combine a digital strategy (which the marketing department will have to think of) that compliments the offline activities, and hopefully, it will turn into sales.
IR 4.0 will allow marketing to be automated and it will give visibility to the marketers. An automated system which can measure the precise data of a customer will help marketers to plot the next "big thing": how to sell, who to sell, when to sell and where to sell. These questions typically require marketers to conduct surveys in order to get the necessary data. With automation, marketers can reach their customers individually with specific messages through their own websites or through their social media channels e.g. Instagram, Facebook, etc. Furthermore, marketing automation can also allow marketers to measure which of these channels could help them to generate greater revenue, thereby allowing the marketers to focus on these and ignore those channels which are not contributing to the business as effectively. By utilizing the marketing automation platform, the marketing and sales teams can use the same platforms to analyse the data that has been gathered.
Many consumers have wondered what will happen when IR 4.0 kicks in?  When that happens, the automated system could predict what the customers' needs and wants are. Therefore, products that are in demand will be restocked quickly so that there will never be any shortages. Furthermore, IR 4.0 can also allow customers to virtually try the products before even purchasing them. Imagine a customer who wants to buy some furniture but lacks the capability to imagine how it will look in his apartment. Augmented Reality (AR) companies like Ikea have made it possible for the customers to virtually place the items at the desired place before purchasing. Likewise, with Virtual Reality (VR), consumers can feel and experience something without ever leaving the comforts of their homes.
At SEGi College Kuala Lumpur, we are moving towards IR 4.0. We have revolutionized our teaching and administration to be more digitalized. Classes are conducted on a hybrid basis which consists of face-to-face and online. Most lecture materials, assignments and examinations are conducted online from time to time. The digital world has enabled us to be connected with our students virtually no matter where they are and at any time of the day.
In conclusion, with the advent of IR 4.0, marketers will need to be on par with their manufacturers in order to make them more efficient in selling their products. Older marketers will need to go through extensive training for them to be more digitalize and competitive in this era. At the same time, the teaching methods of universities and schools must focus more on the digital aspects of marketing so that their graduates can become more competitive. Customers and consumers will be able to enjoy a much smoother shopping experience as the production line becomes more efficient with a higher quality of products. More jobs will be created in line with IR 4.0 which will hopefully expand the economy. Therefore, IR 4.0 will definitely make a country better than it was before IR 4.0.
Click here for more information on our available Marketing course in collaboration with the University of Greenwich.