At SEGi College Subang Jaya's recent convocation, the first physical one since pre-COVID times, Valedictorian Tan Yuen Joo gave a heartfelt and touching speech thanking the organisers for pulling off the event and all the parents present for their unwavering love and support carrying their children from the beginning to this glorious finish.
Yuen Joo, who's just earned First Class Honours in the Bachelor in Early Years Education, also won the International Prize for Best Completing Student in an International Programme 2021, and three medals in the STEM competition. In her speech, she gave recognition to the students from the University of Sunderland (UoS) and the Trojans for their relentless efforts to organise the many events, fundraisers, competitions, forums and industry visits and making SEGi a better place to be, learn and grow.
In the middle of her speech, to the amusement of her audience, she asked all her fellow graduates to raise their right hands, put them across their shoulders (here she demonstrated the gesture) and made them all pat themselves on the back, because they had all made it to the finish line no matter what odds had been stacked against them. As students they had to juggle their studies, relationships with friends, hobbies and passions, among other things. Those who came from different countries had to adjust to life away from their families, which can't have been easy.
She remarked that for some, there was the additional struggle of having grown up in the Asian culture where it is natural to be really hard on themselves and so easy not to see how much they have accomplished, and fail to see and celebrate the small victories along the way, not knowing how to accept compliments and encouragement. She urged everyone to move from this Asian mindset to Segi Culture where everyone is always grateful, positive, and supportive and encouraging of one another.
Yuen Joo talked a little about how her own journey began with SEGi as an impulse, but one which most certainly changed her life for the better. "I dreamed big, aimed for the start, and took a flying leap of faith to pursue this goal in the hopes that it would ultimately all pay off. And guess what? It did." She credited her accomplishments to her lecturers from the Faculty of Music, Education and Psychology, without whom she says she could not have come thus far.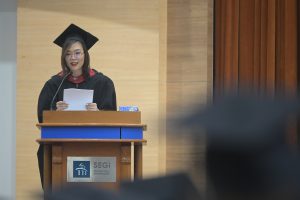 In closing, Yuen Joo encouraged everyone in her audience to pursue what they are passionate about, to chase after their dreams and passions no matter how impossible they seem. Her inspirational speech left her audience quite speechless and in awe. SEGi College congratulates Yuen Joo for her exemplary achievements and all her fellow graduates for their amazing race to the finish line, and wishes them all the very best in the coming races of their lives.