Our #EarlyYearsLectureSeries will take you to New Zealand this round, introducing – Te Whāriki: the New Zealand Early Childhood Curriculum
About this event
Te Whāriki has garnered international attention worldwide due to its innovative approach to curriculum. As a curriculum document that guides teaching practice, it is deeply rooted in the New Zealand context and resists outlining what children should learn. Instead, Te Whārikiprovides a foundation of principles and strands that each centre community (teachers, families and children) use to create their own, locally relevant curriculum experiences and learning goals. Te Whārikihas been called a philosophy as much as it is a curriculum and the document outlines clear committments to inclusive, emanicpatory and place-based teaching practices. Dr Gould's talk will introduce Te Whārikiand provide examples of practice relevant to the curriculum strands of Wellbeing and Belonging. These practices illustrate how teachers can work alongside children (and their families) in ways that honor the inherent mana of each child. It is hope that these examples will provoke conversations and inspire practices in the Malaysian early childhood context.
About your Speaker:
Dr Kiri Gould
Lecturer & Programme Director, Faculty of Education and Social Work, University of Auckland, New Zealand
Kiri has over thirty years of experience in early childhood education in New Zealand. She has worked as a teacher, centre manager and teacher-educator. She is currently a lecturer and the Programme Director of the Bachelor of Early Childhood Studies at the University of Auckland. She has research interests in early childhood policy, teacher identity and professionalism, and teacher wellbeing.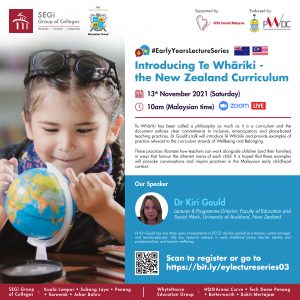 If you are interested to attend our this sessions, be sure to sign up by clicking on the 
link here
:
https://www.eventbrite.com/e/earlyyearslectureseries-introducingte-whariki-new-zealand-ecce-curriculum-tickets-191536279167