The #EarlyYearsLectureSeries goes to London, England this time with Dr Jill Harrison on Effective Leadership
About this event
Leadership is identified as an essential component of high-quality practice, attention needs to be given to effective leadership to promote an equitable, sustainable workforce that works together to provide an exciting, relevant and meaningful curriculum supporting young children and their families.
This talk will reflect on leadership practices and explore leadership possibilities, it will reflect on current research that Jill has conducted comparing practices in Malaysia and the UK. It is hoped that the importance of effective leadership will be raised and raise aspirations for all, to take responsibility for pedagogical, transformational leadership.
About your Speaker:
Dr Jill Harrison
Principal Lecturer and Programme Leader, Faculty of Education, Health and Human Sciences, University o Greenwich, UK
Jill is the academic portfolio lead for the early years department at the University of Greenwich, and a link tutor to SEGi Group of Colleges. She has spent many years as a practitioner working in Private, voluntary, and local authority settings, leading and managing practice. She has a wealth of experience working within the local community, working with disadvantaged families, with children at risk and with those who have special rights.
Her most recent work in further and higher education has led to her research and writing on Mentoring, professionalisation and leadership. She is passionate about improving opportunities and outcomes for children by promoting a love for learning and she believes that open-minded, reflective empowered practitioners/teachers are key to this.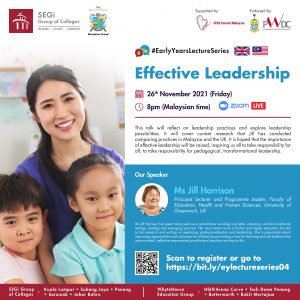 If you are interested to attend our this sessions, be sure to sign up by clicking on the link here:
https://www.eventbrite.com/e/earlyyearslectureseries-effective-leadership-tickets-191541414527