It is no secret that researching for projects and assignments can be very time-consuming. But what if we tell you that there are techniques that you can use to start researching better?
This 24 February 2021, we are having a workshop titled, "A Guide to Efficient Research". Our speaker – Nagasangari, Senior Lecturer from the Faculty of Education, will be sharing the best practices in research and how you can save time by applying these tips in your process.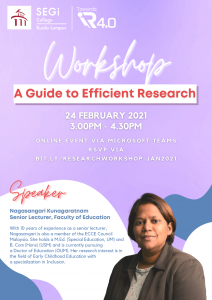 Who Should Attend:
This session is perfect for those who are going to undertake their Final Year Project, or simply anyone who wants to research better.
Your Speaker:
Nagasangari was a Senior Lecturer with the Faculty of Education, SEGi College Subang Jaya for the past 10 years. She has been a teacher specializing in Early Childhood before pursuing a career in Special Education for 8 years and a Programme Development Coordinator in an NGO for the past 2 years.
Her teaching experience ranges from young children to adults with learning disabilities. She is also a member of the ECCE Council Malaysia. Her qualifications include an M.Ed. (Special Education, UM) and B. Com (Hons) (USM) and is currently pursuing a Doctor of Education (OUM). Nagasangari's research interest is in the field of Early Childhood Education with a specialization in inclusion.
Details of the Event:
Title: Online Workshop: A Guide to Efficient Research
Date: 24 February 2021 (Wednesday)
Time: 3.00 PM – 4.30 PM
Platform: Microsoft Teams
Event Registration: https://bit.ly/researchworkshop-Jan2021